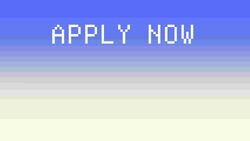 ECKVA2
is the second episode on the
eckvanet Channel
. It was uploaded on October 27, 2016 and is 54 seconds long.
Description
Edit
2
After the ECKVA logo, there is a screen with blue-to-white gradient reading: ECKA IS HIRING
Our career fair is place next l
The next scene is of a person on an adding machine with a pen in their hand. The caption "COMPETITIVE PAY" is shown in red on the top. The numbers entered into the machine are:
The next scene are two people in silhouette with the text "CHALLENGING WORK" on the top in red.
Then, the red text "HEALTH BENEFITS" is shown, as a doctor presents a bottle of pills.
Briefly, a drawing of a bald man is shown on a red background as the scene transitions, with the text "DO WHAT'S IMPORTANT".
The video then returns to the blue-and-white gradient and reads "APPLY NOW http://www.eckva.net/careers"
The video ends with:
NOTES :
WHEN WAS THIS?