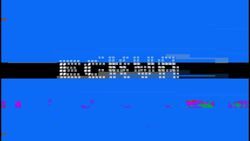 ECKVA1 is the first episode on the eckvanet Channel. It was uploaded on October 13, 2016 and is 38 seconds long.
Description
Edit
1
The episode opens with the ECKVA logo and its distinctive tone. Then, on a blue gradient while tones continue to play, more text is shown:
SO MANY NEW THINGS coming to your television set
stay inside

(background changes to black)
The final screen displays: NOTES :
-NONE-
Each transition is marked by graphical glitches, and every text portion between the opening logo and the notes page has the ECKVA logo at the bottom.